Shopping Basket
Your Basket is Empty
There was an error with PayPal
Click here to try again
Thank you for your business!
You should receive an order confirmation from Paypal shortly.
Exit Shopping Basket
They say that where there's muck there's brass, so if the amount of clarts on the apples we've been sorting for pressing today is anything to go by we're in for a premium Woolly Pig Vintage 2012.  But hey, what's a bit of mud between friends?  No doubt the soil underneath the National Fruit Collection apple trees is full of good nutrients, so it can't do any harm to lob a bit into the mill with the fruit every now and then.  I mean, pregnant women crave it, toddlers munch on it.  Ok, Ok, I'm just looking for an excuse not to have to wash it all off first... one less back-aching task has to be a good thing.
The pigs (and piglets) are having a fantastic time disposing of the pomace, although I'm a bit worried that they don't get through it all before it starts fermenting. If you're in the vicinity and hear grunting that sounds suspiciously like rugby songs, and spy some Mangalitzas and Gloucester Old Spots staggering about in their cups, then you'll know who to blame :-O
Well, after a bumpy start at the beginning of the week, when it seemed unlikely we could get enough apples to get going with Woolly Pig 2012, we  now have the first 1,000 litres in the bag with the next 1,000 well underway. 
Our greatest and oldest friends Terry, Maureen and Nick made the 330 mile journey from ooop naarth to give us a hand (maybe with a more romantic notion of cider pressing in mind than the dusty, sticky, back-breaking slog it really is) and have got truly stuck in this week, lugging 11kg boxes of apples around the orchards and the barn, scrabbling under trees knee deep in mud and rotten fruit to scrump what we could when stocks of picked fruit ran low, wheelbarrowing piles of pomace around to feed the woolly pigs. Copious numbers of ibuprofen have been downed to numb aching feet, knees and elbows, Cottage Foods have been stripped of pasties and biscuits to keep the carb levels up, jumpers, jeans, wellies and shoes have been splattered with pulp which once dried takes about 18 months to get off, and much tea (strangely not cider) has been imbibed.
Now we're down to our last few polypins of Woolly 2011 we're hoping for a sunny spell to get this lot a-bubblin, and with luck and a fair (warm) wind we'll be racking off soon after Christmas.  With a new home to move into - the old jam factory on site - and Christmas around the corner there's plenty to keep us old duffers on the go.  What are the odds that the plans to submit our 2011/12 tax returns before the 31st Jan deadline for a change will go awry?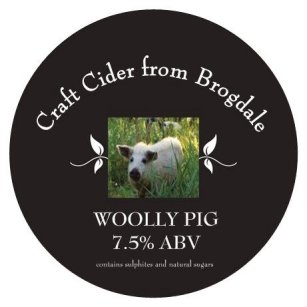 Yes they do, in 2 and 4 pint containers out of the shop door, and we can't seem to rack this little beauty off fast enough (note use of technical term here).  Pop in for a taste and let us know what you think.  Young and fresh, just like the people who made it lol.
Six polypins have gone up to the Beer and Cider Fest at the Robin Hood pub in Blue Bell Village, along with an arm-stretching 33 others we supplied this week. 
The festival runs from 22nd June to the 1st of July, with great bands and hog roasts and fabulous local beers and ciders. If you're in the vicinity it's definitely worth a visit,
Well, we acquired a second-hand apple press - a twin-bed rack and cloth monster with a mill attached that chews up and splats out up to a whole bulk bin of apples in less than an hour - and, one huge shopping list later (rubber aprons & gloves, flexi tubs, filters, jugs, massive storage tanks, airlocks, bungs .. it goes on ...) we have had a crack at making our own cider, using apples from the national fruit collections.  Two days of slog later, ending each day looking like we'd been barfed on by a party of drunken teenagers, we finally managed to fill one tank to the top and it's now time to let nature take it's course.  Hopefully if the temperature doesn't plummet too deeply too quickly we'll be OK - they say a slow fermentation is best - but if not, cider vinegar anyone??
/